ECONOMY
The latest Commerce Department report showed July income rise .4%, following two months of declines. Additionally, consumer spending increased 1.9%; the third straight month with gains. One caution; the consumer spending gain represented a slowdown from the previous two months. Overall,  Friday's report arrived  "amid a hazy economic landscape, with high unemployment, struggling businesses and deep uncertainty about when the health crisis will be solved and when people and companies will feel confident enough to spend and hire normally again." However, after the "catastrophic fall in the April – June quarter" the economy is likely expanding again.  (CNBC; 8/28/20.)
CROSS-PLATFORM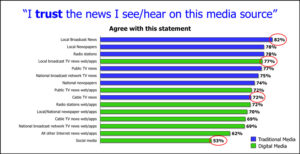 The TVB released its Home Improvement Purchase Funnel 2020, comparing major media for its influence in consumer's purchase  decisions. Fielded in June-July, 80% of people said COVID-19 "got them thinking" about home improvement projects. Key findings reflected TV's importance throughout the purchase process across multiple demos including upper-income households. Local broadcast ranked #1 for trust, with its web and apps leading among digital platforms.
SPORTS
An emarketer article (8/25/20) checks in with TV buyers who have plans to reallocate their sports spending due to postponement or cancellation. Many (38%) are taking money off the table, or they're looking to keep their money with their legacy partners. However, 14% of respondents looking to reallocate to other partners.
POLITICAL ADVERTISING
On the final day of the Republican National Convention, Adage (8/28/20) reports that Team Biden spent $38 million in advanced bookings of TV ads, per their latest Campaign Ad Scorecard analysis, a partnership with Kantar/CMAG. With this latest infusion, the Biden campaign has $134 million booked between September 1 and Election Day vs. $147.7 million for the Trump campaign. Of note, these figures do not include PACs. The datacenter article includes charts spending in key battleground states as well as top markets for each candidate.
VIEWERSHIP
In other political news, Adweek (8/28/20) compared the ratings for the 2020 DNC and the 2020 RNC. Overall, both events were down from their 2016 live-plus-same-day ratings. The DNC averaged 21.6 million nightly viewers over the four-day virtual event (-18% vs. 2016 which averaged 26.2 million viewers). The RNC, which incorporated fewer virtual elements averaged 19.4 million viewers per night (-21% vs. 2016 which averaged 24.6 million viewers). The article includes detail by network for both total viewers and the key demographic of Adults 25-54.
RESEARCH
Nielsen set its national television household universe estimate for the 2020-21 TV season at 121 million homes, up .3% from 120.6 million in 2019-20. Total viewers 2+ are estimated at 307.9 million (+0.2% over last year). U.S. Hispanic households were up 1.9%, Black households were up 0.9% and Asian homes were up 2.7%.  The percentage of U.S. homes with TV receiving traditional TV signal via an over-the-air antenna, cable, satellite, telecom or broadband connected to a TV set is 96.2%; an increase of 0.1% over last year (Nexttv.com; 8/31/20.)
LABOR DAY WEEKEND COOKOUT IDEAS
The Today Show (9/1/20) updated their list of "13 fun and flavorful cookout recipes you can make this Labor Day weekend"; perfect for your next back yard barbeque or small, socially-distanced gathering. From the grilled salmon and zucchini skewers on the left (photo credit: Maya Visnyei) to vegan creamy avocado–potato salad to a peach-blueberry skillet cobbler, say "goodbye to summer with your favorite barbecue staples, seasonal sides, and decadent desserts."