ECONOMIC SENTIMENT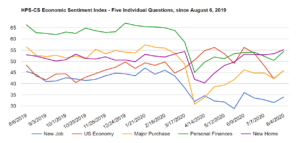 The HPS-CivicScience Economic Sentiment Index (ESI) posted a positive gain for the first time since early June (Civic Science, 8/5/20.) The Index "measures U.S. adults' expectations for the economy going forward, as well as their feelings about current conditions for major purchases." In the latest report, "all five of the ESI's indicators increased, with confidence in personal finances leading the uptick. The uptick comes at a time of mixed economic news, with cases of COVID-19 rising at their slowest rate in weeks and vaccines entering new trial phases, while federal unemployment benefits expired at the end of July.
In a warning to retailers, research from Acosta indicates that more than half of consumers intend to stockpile necessary items, in advance of another possible lockdown.(ProgressiveGrocer.com; 8/6/20.) In research fielded mid-July, they found that  38% of consumers stocked up at the beginning of the pandemic and would do so again with a new shutdown, while  15% of consumers did not stock up earlier this year when the outbreak started but would do so if there is a new shutdown. And topping back-to-school shopping lists is hand sanitizer (66%), followed by school supplies (64%) and masks and gloves (60%).
TRUSTED NEWS
Research company, Brand Keys released their two-year report measuring viewer trust of major news organizations (Mediapost; 8/11/20.) Over the course of the last six months, with news becoming more important to everyone, the study found that news has also become more trustworthy; reaching parity for almost every outlet measured. Most tune to the news for stories on the pandemic (31%), followed by the economy (27%), the 2020 election (20%), the re-opening of schools (15%), and national protests (7%).
LOCAL TV VIEWERSHIP
From the earliest days of the pandemic, the TVB has been analyzing weekly news viewership across 25 LPM markets, seven broadcast networks (ABC, CBS, CW, Fox, NBC, Telemundo, and Univision), and multiple targets (e.g.A18-34, A25-54, and A18+ for general market and Hispanic audiences.) Updated through July, the data shows that "TV has been an essential source for audiences looking for critical information and updates on the coronavirus, as well as a key source of entertainment." Downloadable Nielsen reports show that across demo and daypart, there has been a "strong increase in broadcast TV viewing from last year." (TVB.org; 8/11/20.)
DOES YOUR MASK MEASURE UP?
Good Morning America (8/11/20) featured a new Duke University study, that measured 14 masks for their ability to slow the spread of the coronavirus. Specifically,  the team looked at each mask's effectiveness at keeping droplets from getting out. For this reason, masks with valves have been banned from several airlines. And while surgical, N95, and cloth masks perform well, bandanas and neck gators have been shown to offer less protection than alternatives.