TV BY THE NUMBERS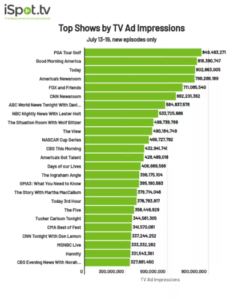 News and morning talk shows dominated the iSpot.tv rankings for the week of 7/13. However, live sports, in the form of PGA Tour and NASCAR made an appearance.  America's Got Talent and Days of our Lives both made the top 15; those two along with CMA Best of Fest were the only non-news or sports programming on the ranking (Nexttv.com; 7/22.)
NIELSEN CHANGES
The 4A's is "challenging Nielsen's decision to combine its national in-home and out-of-home television viewership measurement data into a single stream (Mediapost,7/20). Nielsen's plan, which is expected to be implemented at the start of the new season, is facing criticism for a lack of transparency. According to the 4A's statement, Nielsen's decision will "negatively impact both agencies and marketers and their ability to distinguish data streams to support pricing, analysis and audience understanding."
Nielsen is changing the methodology of their digital video measurement by putting all premium video on a single platform (Nextv.com; 7/21.) In response to changing technology and privacy requirements, Nielsen announced that it is updating the way it measures digital video in an effort to offer cross-platform metrics. Nielsen looks to rely less on "third parties and unreliable digital identifiers and cookies," and will build their own company-owned tech stack. Set for a phased rollout beginning in early 2021, products include Digital Content Ratings, Total Content Ratings, Digital in TV Ratings, Digital Ad Ratings, and Total Ad Ratings.
ADVANCED TV
A sponsored Mintel survey found that Connected TV consumers are supportive of advertising if it gives them access to free content. The survey fielded before the pandemic, and recently released (Mediapost, 7/17) provided pre-COVID benchmarks of acceptance. Notable findings include 80% reporting to watch at least some ad-supported CTV programming, and 60% indicating that they would be more likely to choose the "free version with ads."
SOCIAL
A Pathmatics analysis of digital data from the first two weeks of July shows that brands are shifting away from Twitter as well as Facebook, with YouTube appearing to be the beneficiary of marketing dollars. While some of the analyzed brands were not publicly proponents of the boycott, the total decline amounted to 19% less for Facebook vs. the previous year, and a 9% decline for Twitter (Adage.com subscription; 7/20).
LIVE FROM NEW YORK
NBC remains tight-lipped, but Lorne Michaels and his team are "making plans to bring the show back to NBC's Manhattan studios for the venerable late-night program's 46th season," according to an "exclusive" in Variety (7/20). Michaels has experience with bringing a show back to the studio, having restarted new episodes of The Tonight Show, which he also oversees.