AD SPENDING
October saw a modest rise in ad spending, just .7% over the same period the previous year, according to Standard Media Index's US Ad Market Tracker. The tracker, which looks at actual expenditures across agency holding companies, noted that the top 10 advertising categories appear to have been driving the rebound, with a 6.7% expansion vs. all other categories which declined 5.6% for the month (MediaPost; 11/25/20).
DAYTIME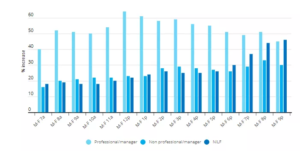 With so many people working and learning from home, a new report from Nielsen confirms that that people are working "a lot more TV watching into their daytime routines." The report, based on October 2020 data, shows that professionals spent an average of two hours and 10 minutes more per week watching TV between the hours of 9am and 4pm than they did a year ago. A 21% increase, this includes both live and time-shifted viewing. They've increased their evening viewing (5pm to 8pm) as well.  With kids spending more time at home, it's also no surprise that time spent with internet-connected devices is up. And it's not just young people, with the report showing that professionals and managers use of internet-connected devices is up throughout the day as well (Adweek; 12/1/20).
NEWS
The previous Active TV Media News (11/18) referenced a five-and-a-half-year study that looked at the effectiveness of TV. One of the researchers quoted in that report, looked closer at TV viewership; focusing specifically on News. And while we all know that news increased since COVID-19 began, most were not aware that it had actually gone up even before the pandemic. As a result, he claims, that news is under-used by advertisers, citing corroborating research like that from MediaScience, which showed that viewers spent 40% more time watching ads during the news than those watching average programming (MediaVillage; 11/23/20).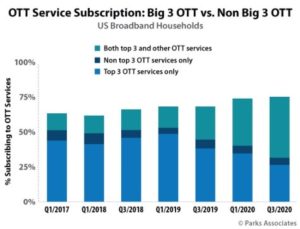 OTT
Research firm, Parks Associates found that 2020 became a tipping point for people to expand beyond the Big Three OTT subscription Services (Netflix, Amazon Prime, and Hulu). Challengers, including Disney+, Apple TV+, HBO Max, and Peacock, contributed to a noticeable shift in Q3/20, with more broadband households subscribing to "non-big 3" providers (TV Technology; 11/25/20).
COMMUNITY OUTREACH
TV Newscheck (11/30/20) reports that "since the beginning of the pandemic, food insecurity has doubled in general and tripled for households with children." Year after year TV stations contribute to their communities through food and clothing drives, telethons, and by partnering with local and national businesses. The article includes just some of the supportive ways that communities came together this Thanksgiving and sharing links to food banks, toy drives, and other ways to help.