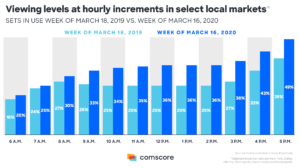 On Tuesday, 3/31, Comscore released new research showing the continued "surge in Daytime television viewing". These insights, based on preliminary data in five of the top 25 markets (ie NY, Dallas, Atlanta, Minneapolis, Sacramento, and Indianapolis) shows an average increase of about 10%. Historically, ratings plateau around 8AM. Now, with everyone at home, they rise throughout the day.
The Edelman special report "Brand Trust and the Coronavirus Pandemic," (3/30) fielded last week, is a global study of 12,000 people in 12 nations. It found that respondents recognized the need for specific brands to help, with 62% saying that brands play a critical role, and 55% reporting that they're responding quicker than government (Mediapost 3/31.) Overall, respondents preferred TV, Radio, and Newspaper (45%) for "brand pandemic messaging" followed closely by email (42%). Domestically, email was the preferred platform (50%), followed by TV, radio, and newspapers (37%).
The Drum is adding examples of how "brands, media entities, and others are using creativity to inform and educate the public during the coronavirus pandemic" in their Creative Works section.
Adage, in their CMO Strategy section, is tracking marketer response to coronavirus, with their own ongoing, regularly updated list. The most recent post included the Mattel Playroom, a resource with activities, tips, and content from their brands (e.g. American Girl, Barbie, Fisher-Price and Thomas and Friends). Normally, Adage tracks what marketers are doing for April Fool's Day with its annual guide. This year it's been replaced with the opinion piece to the right. Adweek took a few more words to come to the same conclusion.
From B&C (3/31), a new Samba TV report found that total television viewing was up 85%, with the largest gains going to daytime and, unsurprisingly, cable news. They compared viewing for the period 3/23-3/27 to a year ago; finding that daytime viewing is up 121%, while cable news, on average has 3x the ratings.  Over on syndication, the publisher reports (3/31) that syndication saw large gains for the week ending 3/22, despite production stoppages and preemptions for breaking news.
Streaming's share of TV increased to 23%. New figures from Nielsen show that viewers in the US are streaming more as they shelter at home. The report said that 156 billion minutes of content was streamed for the week of March 16, up 36% from 115 billion for the week of February 24. The growth is "fueled by more platforms and more content arriving online." While Disney+ isn't reported separately yet, it appears to be as significant contributor to it's "other" category (Mediapost, 3/31.)
Mediavillage featured the Advertiser Perceptions report: The Coronavirus Effect on Advertising. The survey, based on 203 interviews from mid-March, will track changes by repeating interviews every two weeks. In this first installment, 89% of respondents experienced disruptions in their advertising, but "only a third canceled a campaign outright." Most are changing their media mix, and/or looking to shift spending into the second half of the year.
Today is Census Day
Census Day is April 1st, seriously. While the bureau started their count back in January this year (a remote Alaskan village), and households throughout the country received their information in mid-march, every home will have had an invitation to participate by April 1st. Not only does the census provide "critical data that lawmakers, business owners, teachers, and many others use to provide daily services, products, and support for you and your community" (this article, featuring Nielsen's top data scientist, explains its daily importance to advertising and marketing), but the conducting of a census is written into the constitution. It's available online for the first time ever. To learn more, or get started, click here.